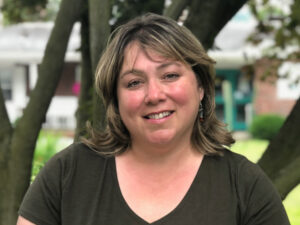 Maria cofounded Life Stages Counseling in 2004 with her colleague, Leslie Shakespeare.  Maria holds a strength~ based philosophy and focus on the belief that people innately know what they need to feel whole and healthy. Assisting them on this journey towards mental health and balance through person-centered therapy is the key to her work with her clients, and part of the mission of Life Stages Counseling. 
Maria specializes in child, adolescent, and adult therapy. Specific areas of interest include helping people with parenting support and education, adolescent counseling, play therapy with young children, supporting college students, and general counseling for adults.
Maria grew up in a small community close to Ithaca, and has lived in Ithaca since 1997. Maria has over twenty years of experience in clinical social work. Maria graduated from St. Bonaventure University with a bachelor's degree in psychology in 1994, and from Marywood University with a Master's degree in 1996. Maria worked for the Franziska Racker Centers for six years, both providing social work services in their preschool classrooms for children with special needs, and providing play therapy to preschool children. Maria also co-directed the Family Resolution Project through the Racker Centers, and affiliated with the Department of Social Services, to assist families who had open cases in the child protective unit in strength-based care planning for their children. Maria facilitated a support group for foster and adoptive parents through the Department of Social Services also during this time.
Maria has her Certificate in School Social Work, and has worked both as an elementary school social worker in the Ithaca City School District, and as a middle and high school social worker in the Spencer Van Etten School District. Maria also contracted with the state of New York Tompkins County Early Intervention Program, and currently with  the Committees on Preschool Special Education in surrounding school districts to provide play therapy and family counseling services to children within these two programs.
Maria believes that people innately know what they need to feel whole and healthy. Therapeutic support offers people an arena to search for their own answers with gentle guidance and clarity. This support can strengthen both skills sets and feeling of ownership and confidence in ability to care for oneself. Maria's therapeutic philosophy is a strength-based, person centered approach to well-being and mental health. Maria is also the mother of three daughters.
Email: [email protected]