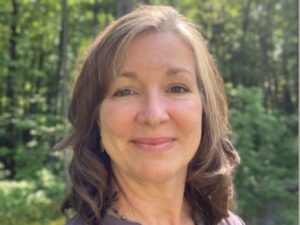 Gretchen earned her BS in Psychology with a minor in Biologyfrom Hofstra University; her MSW from Syracuse University with a concentration in Child Welfare; and her PhD in Program Evaluation and Planning with minors in Human Development and Organizational Behavior from Cornell University.
Gretchen's social work career began after she earned her bachelor's and continues to today – with children and families, individuals and groups, organizations and systems wrestling with a wide range of struggles. She has worked with children and families who have become mired in one or more "systems" as part of their struggles – systems of juvenile justice, welfare, mental health, and substance use treatment, penal, public school, and un/employment. Often many complicating factors, such as health issues, disrupted or blended families, immigration, or one of the many oppressions are also part of this picture, and Gretchen considers how a change in one might impact the others as we work together for the most positive change from your efforts.
Gretchen draws from a broad range of tools to help clients meet their goals and sustain positive change. She leans on Solution Focused Therapy and weaves in techniques from compassion and mindfulness practice, Cognitive Behavior Therapy, Dialectical Behavior Therapy, trauma-informed models, and culturally sensitive practices.
She loves to learn and is often reading or attending trainings; and she loves to unravel big knots – if you're feeling "stuck" she's happy to roll up her sleeves and help you figure it out.  Gretchen is a sailor and sees this as an apt metaphor for the therapeutic journey: you choose the destination and steer the boat, while Gretchen adjusts the sails to keep the boat steady and moving forward. Sometimes the seas are stormy & sometimes still, but we find ways to continue… And we arrive when we get there.